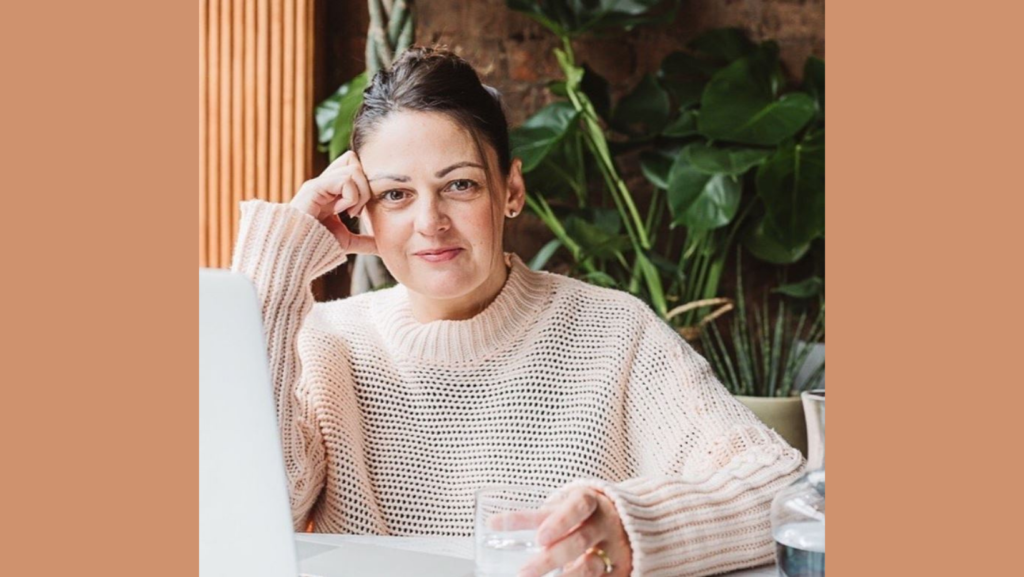 In 2021 I ran a series of blog posts from guest contributors focused on maintaining our mental health. Following feedback in my Facebook group, I decided that my blog theme for this year's guest contributors would be "taking our businesses to the next level". This post is the second of this new series, and comes from the very talented Emma Boyle.
You can read the first blog post in the series, by Sam Flynn of Planet Social Media, here.
Emma Boyle is a full time professional photographer based in Manchester.  After years of working in Law, Emma finally took the plunge and gave up the 9-5 to pursue her dream job of photography. Her aim when photographing business owners is to show your true personality, because as a small business owner herself Emma understands the difficulties in showing up on social media and standing out from the crowd.
In this post Emma explains how a personal branding photoshoot can elevate your business. The photographs of me that illustrate the text are all from the shoot that I did with Emma earlier on this year.
**************
Ok so we have all probably used a stock image at some point right?  Quite often they just don't have the right tone, feel or on-brand colours, more importantly it can take ages, even hours looking for the right image.  Don't get me wrong, they absolutely serve a purpose when you have nothing else, but let's face it anyone can use the same image and quite often they simply look flat and generic.
A Personal Brand Photo-Shoot is all about showcasing you and your brand. Showing the face behind the business and telling your story is the best way of standing out from the crowd.
Your personal brand is what sets you apart from your competitors as it focuses on your personality. 
Why is Brand Photography important?
What makes a business unique and stand out more than anything is YOU! People want to know Who you are, What you do, and Whom you serve. 
Personal brand photography is the art of using high quality images and visuals to tell the story of your brand and business.  Most savvy business owners and entrepreneurs are now seeing the importance of professional images and consistent visuals when it comes to promoting and marketing themselves.
The visual images that your client's see online, be that your website or social media posts, may be the first experience your client will have of your business – so you need to make sure they are great and stop your potential client from scrolling past.
In this social media/digital world, it's a must to show up online in order to stand out from a saturated market. Images that showcase you and your brand are vital to establish yourself as an expert in your field. 
Having a set of strong professional images that have the right impression and the right tone is so crucial, and lots of small businesses are turning themselves into brands to create a more powerful presence. 
Branding itself is essentially the ongoing process of establishing an impression in the minds of others to ensure that all the messages you put out there are in line with your brand values, your mission and are exactly what your ideal clients want to hear, see and what attracts and appeals to them.
How can it help develop my brand and elevate my business?
Having a Personal Brand Shoot enables you to have creative images which have a purpose, a concept and most importantly tell your story.
We all know that people invest and buy from people they know, like and trust.
Most people find it really difficult to find images to post daily that are in line with their business and brand.  Therefore having a bank of on-brand, current images takes away that daily scrabble and pain.
Strong visuals will help attract your ideal clients and will help encourage engagement with them. Plus, having professional images helps you to market and advertise your brand and business, and positions you as an expert in the field.  It gives you a polished professional feel to your business and reassures your potential clients.
Where can I use my Brand Images
Our goal as photographers is to create a bank of varied, appealing, completely on brand images that have a consistent look, feel and tone so business owners can pull from that bank and use the images for all of their on and offline requirements.
A brand shoot enables you to get your story out there with the use of your very own images and enables you to shout about who you are, what you do and how you can serve your ideal clients. 
How nice would it feel to be able to post daily/weekly on Instagram, Facebook or Linkedin with consistent great looking images.  In addition your images can be used on your website, presentations or promotional products and all will be in-keeping with your brand and high quality presence. 
How can I find a Brand Photographer?
You don't have to use a professional photographer, however it's vital that your images are sharp, well lit and catch people's attention. Don't bother to post bad quality, or dark/grainy images (unless that is your style).
Find a photographer that specializes in brand photography and can help you establish exactly who is your ideal client and what images you will need to tell your story.  Any professional brand photographer will create a clear plan before the shoot as to what images you will create by discussing your brand, your values, your themes and the image you want to portray.  
Take a look on social media or ask fellow entrepreneurs for recommendations.  Make sure the photographer you use has a style that you like and the feel you want to give.  There is no point in booking a photographer whose images are moody and dark, when you prefer light, fun and airy.
If you want more information on Personal Brand Photography, take a look at my website. Or contact me on 07703 773 701 or via email.
Emma Boyle
Emma Boyle Photography
April 2022