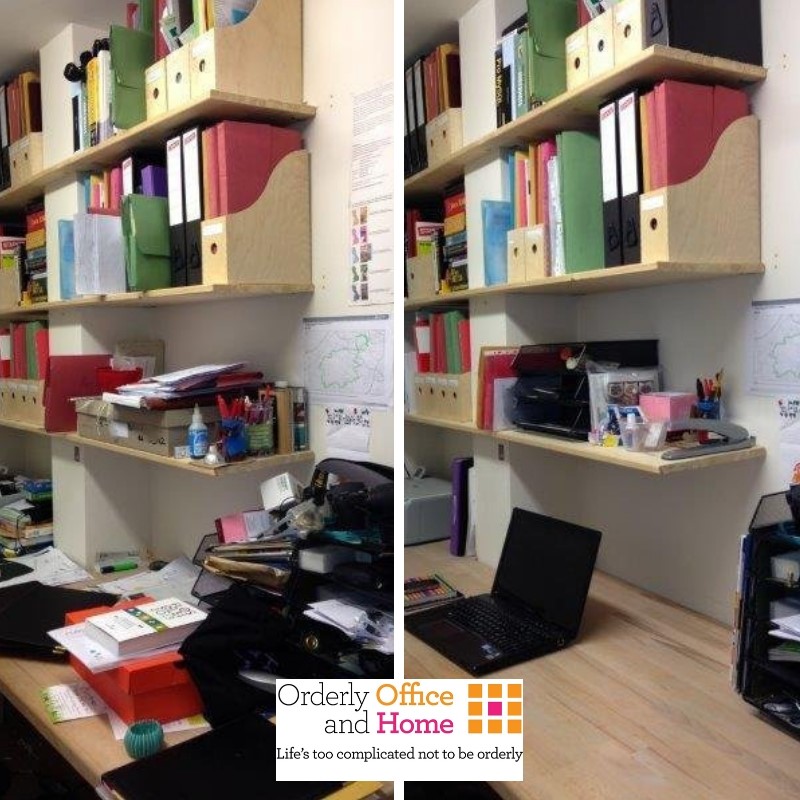 For this week's blog I have a guest contributor, the lovely Amanda Manson from Orderly Office and Home. Amanda works with clients in their home offices in the Manchester and Cheshire areas to create organised and productive workspaces – whether they're creative crafters or detail experts.  As a fresh pair of eyes and unrelated to the business, sessions can facilitate positive changes to the working environment and a renewed sense of focus and vision.

I am hoping to feature one guest contributor per month to talk about different aspects of maintaining our mental health, so watch this space…
************************************
We've all been there. A small businessowner sitting at our home workspace trying to get started.
'I'll just move those empty cups out of the way first.'
Laptop open, lamp on.
'Ah those trade magazines are a bit out of line, let me just rearrange them properly.'
Systems set up and email Inbox open.
'What's that wire over there for?'
And so, it continues… Two hours later and you've only got through what you could've nailed in an hour.
The distraction of stuff around you can hold you back from being productive at work and impact negatively on your mental health. A sense of incompletion – papers, projects, tasks – often works against you. Working in a clear, calm space allows the mind to focus without being distracted by the 'noise' of clutter.
So how can you achieve this?
Firstly, you need to acknowledge that action is needed to improve things, then identify what those distractions are. Then, a quick clear of your work surfaces, putting things away where they belong, and watering your plant might be enough. Or you might decide to go all out and give your whole workspace the once over but be prepared to make a bit of a mess whilst you find ways to organise things – it will often look worse before it gets better. Whichever you decide, ensure you've sufficient time blanked out in your schedule to make those changes – this time spent will be repaid in time saved in the future, trust me!
These 5 quick wins can get you started.
Use your eyeline. Keep only things relevant to the task in hand on your desktop at any one time. Put other projects into a drawer or folder until needed. My office doubles up as a spare room, so a couple of attractive baskets kept behind me contain non-work things like birthday cards, receipts, clothing returns, school letters, facemasks, etc. They're important, but not what I need to see when I'm working.
Stay together. If you work in a common space (eg the kitchen table), use a cardboard box or a tote bag to contain what's needed during your work day and move it out of the way when you've finished for the day.
Keep it hidden. If you've a lot of paperwork, notebooks or reading material to access, try storing them in matching magazine file holders on a shelf or bookcase? Uniformity creates a less busy space for the eyes – and what is behind them won't distract you.
Easy access. Use a simple pen pot or tray on your desktop to keep a few commonly used stationery items to hand as you need them. You don't need a full box of 50 blue pens in front of you all of the time.
Write, read, repeat. Avoid using more than one or two notebooks. Multiples create more work – to find, leaf through, and to carry! Try coloured dividers or sticky tabs to separate projects/clients from one another instead.
The key to it all is to keep the focus on getting your 'day job' done and done well.  Reducing visual clutter around you will allow you to focus, to produce more and to produce better work.
Amanda Manson
Orderly Office and Home
April 2021